WELCOME
to
this
FREE
virtual online 'Provence' technique workshop video 
feasible for everyone 
beginners (yes you can do it 2) through advanced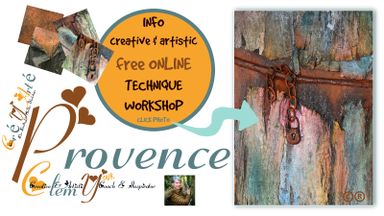 you will get
clear & full scope
step by step
virtual process
on
how to apply different layers & techniques
how to create chain, lock, iron bar, blocknails
tips & tricks
do's and don'ts
as if you were life in my studio
you will find access to the video
further below
as well as tools- and material list
general product & future purchase info
questions and answers 'provence' forum 


per each
online technique workshop
you purchase
in future
you will get
video/info respectively
in the language
you select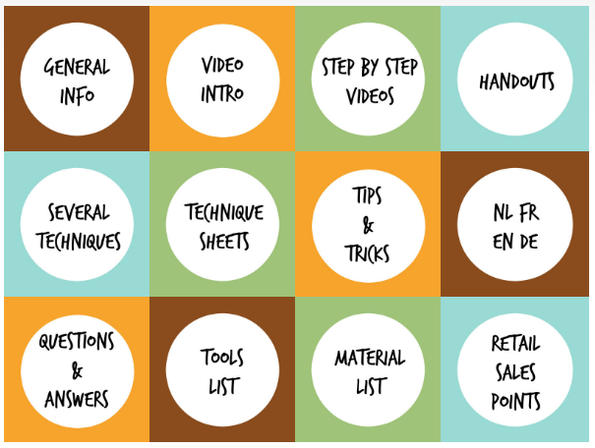 +
lifetime online access workshop
on your own password protected membership page
+
membership secret facebookgroup
+
password protected web faq page 
make sure you bookmark, add to favourites, make note or safe somewhere, ...
the pagelink and the password of this workshop
so you can access it anytime 
 WHY DO I
LAUNCH ONLINE CLASSES
?
New Year 2017
I have set myself this new challenge,
with a start on 
Jan 11th 2017 = 11.1.1
=
A NEW BEGINNING 
Indeed my dinosaur age perk is history from now onwards.
My pen and paper, my ordinary telephone,
telex machine, telegraph equipment ...
have been replaced by new multimedia systems and software
FACEBOOK, TABLETS, PC BANKING, …
and
I am now even ready for the next step
actually to propose
ONLINE TRAININGs
using systems such as 
VIDEO, WEBINARs, SKYPE, …
OMG
x-fingers
although
I am no longer that young
i am not yet old enough not to catch up
with today's communication techniques and social media
to share my knowledge and my passions
with the rest of the world
till my brain and body still allows and i enjoy it
I have been reading a lot in the last 2 years
followed several courses
re facebook marketing, webinars, online courses, e-books, ...
but
the lack of time
thanks to a busy offline business
made me having to postpone this kick'off.
Although my agenda is still fully booked and offline live courses with the personal contact still have my favour, i have now nevertheless very convincely decided to take the jump, to meet the many requests from Powertex, Mixed Media and Marble dust Lovers Worldwide.
I can no longer continue
not to take action
since you know
my slogan and drive is 

So I am very happy and proud
to provide you
my first online class and well FREE
to show you my expertise
the quality you may expect
when you would buy future online technique workshops 
A wide range of different styles
with several techniques is planned,
from sculptures through paintings.
 for
ANY- & EVERYBODY
NEWBIES & OLDIES
STARTERS & ADVANCED
CRAFTERS & ARTISTS
PROFIS
I've got plenty more ideas, 
but let me/us take one step at the time
I guess there will be some hickups on the road
but
together
YOU - I - US
we will get there
and 
make it ALL happen
make it a success
More details - program - plans will follow in due course.
Next to the online workshops/courses,
I also plan to arrange for
personal skype sessions,
one to one courses,
webinars, ...…
So, if you want to be kept posted,
make sure you sign up
for the general newsletter via this form.
I will also try to keep you up to date
via the new future blog on my website.
If you meanwhile want to get to know me better,
what motivates me, how I became a creative & artistic coach,
you will find more info about me here.
My mission is to proof everybody can be creative
and that creativity of any kind,
be it cooking, photography, knitting, art journaling, ...
is a perfect relaxing therapy and which gives a lot of satisfaction
when you have made/created something on your own.


So please be gentle to yourself and
express your inner artist!
Create unique artworks and enjoy the positive energy it will bring you.
Let my passion be your guide.

let me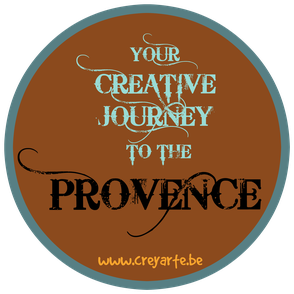 together we are going to catch
and enjoy the flavours & the beautiful colors
feel the ambiance of it's wonderful nature,
old villages with small cosy streets, old windows and doors, rusted chains and locks, peeling paint, herbs and pigments, pétanque and ricard ;-)
so folks are you ready to go
?
okey
here we go
bonne route
and
enjoy
;-)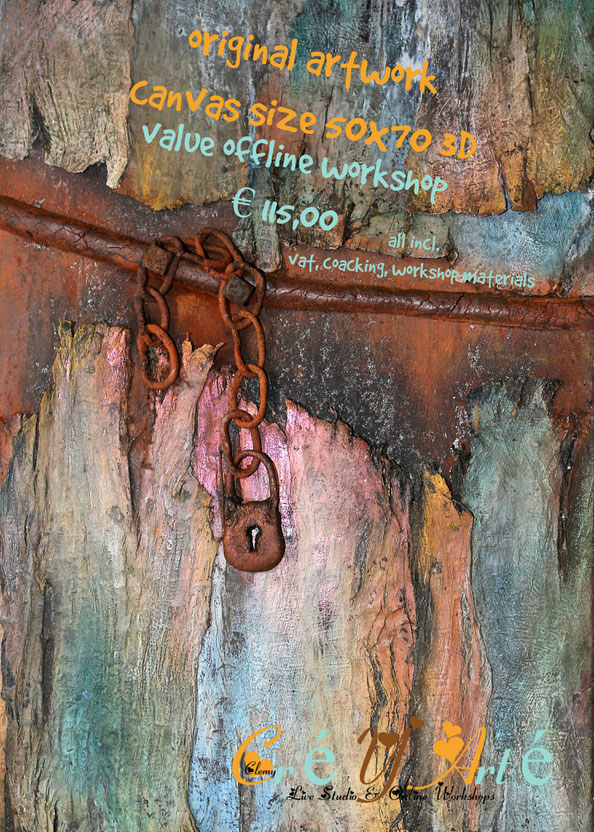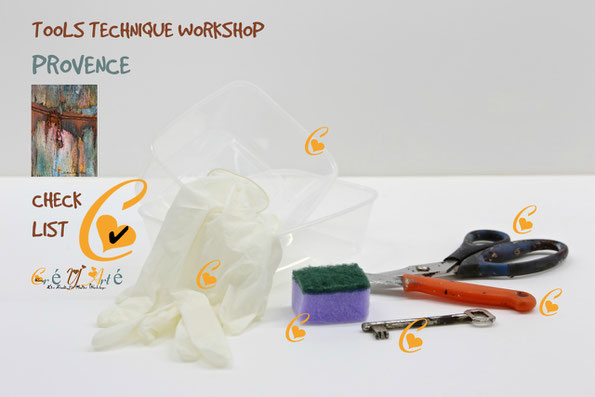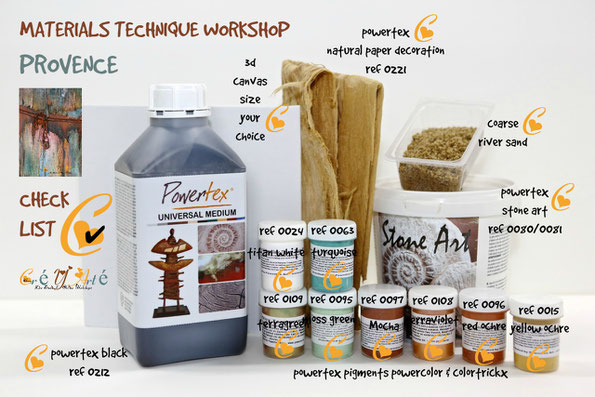 POWERTEX
is a water based product, 
an environmently friendly alternative for polyester
it hardens all absorbent materials and with the complementary products in its' range, and other mixed media - the creative and artistic possibilities are infinite
I prefer to work with gloves, but you can perfectly well work without
wash your hands with warm water to remove powertex easily
wear bad clothes and shoes
protect your crafting desk and floor with plastic foil
do not poor Powertex or clean remainders in your sink !
you find more info re product via link here under 




Our creative journey to the Provence ends here, i hope you enjoyed the trip and that i could give you some inspiration, imagination to make your own piece of art.

I'd love to hear from you.
Please let me have Your
reviews, suggestions, questions and answers
here under
so i can take your advices/comments into account
for my future videos
Thanks a lot in advance.
Hope to see you on a next creative trip.
 ADD YOUR QUESTION/ANSWER RELATED TO THIS E-WORKSHOP HERE UNDER
I will get back to you as soon as possible answering via this forum.
Anybody else can also reply or give advise to questions/answers. 

  General terms & conditions.